A tradition in Hawaii that is perfect for both him & her. You can choose to engrave your name or one of our traditional designs.
Often the first heirloom one receives, a pendant is often worn daily carrying the aloha of the giver with you always.


14K Horizontal Custom Horizontal Hawaiian Pendant
Choose your favorite millimeter size, weight and lettering.
Old English Towne Font
Choose your favorite diamond cut rope chain thickness (mm)
Pictured Options: 15mm, Enamel Letters, Scroll Background, 3.0mm Dia Cut Rope Chain
See below for option examples
SALE! 25% + OFF - PRICE DISPLAYED ALREADY DISCOUNTED

Choose from 14K Yellow, 14K White, 14K Rose or Sterling Silver.



We can also create your custom order in 14K Green, 18K or Platinum, contact us for more information.


All Hawaiian jewelry is measured in millimeters choose from a variety of widths.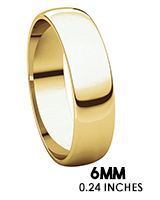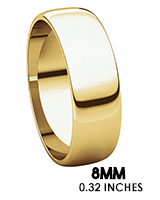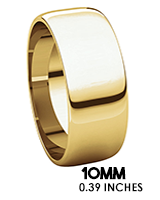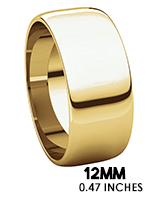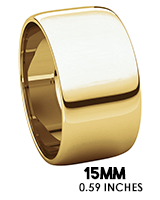 You can choose from several different weight options for your Hawaiian Jewelry. The thickness of the gold or silver determines the weight of the piece. Our Sterling Silver is available only in heavy weight. There is no industry regulation on weights, so make sure that you compare the millimeter thickness for accuracy. Here is a chart showing our commitment to the weight of your heirlooms:


The Old English font used in traditional Hawaiian Jewelry reflects the close relationship and influence the Hawaiian Monarchy shared with the Queen of England. You can choose from three distinct styles of letter.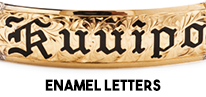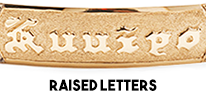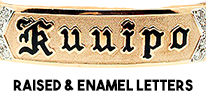 Royal Hawaiian Heritage Jewelry offers a Lifetime Guarantee on our traditional black enamel lettering.
If it should every wear off, we will re-enamel for free.


The lettering background covers the area just behind the name on the outside of the bracelet. Raised and Raised & Enamel Letters are only available with a Sand background. If you choose Enamel Letters you can choose from the following three background choices.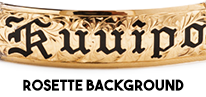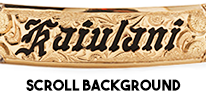 Choose from edging styles, each giving your heirloom a unique finish.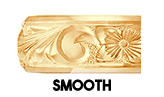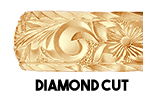 Hand engraved in our Honolulu factory, Hawaiian Jewelry has become a treasured heirloom to be handed down from generation to generation. To celebrate the milestones of our lives, these heirlooms capture your cherished memories. Learn more about the
History of Hawaiian Jewelry
. Now you can design your own custom engraved Hawaiian Heirloom Pendant. Choose your width, lettering, edging and engraved message.
If you need any assistance placing your order, please contact our customer service department at 
1-800-843-8533